First published on February 10, 1927, the Macedonian Tribune is the longest-running Macedonian newspaper in the world. The Macedonian Tribune:
 Provides a valuable news and reference material on Macedonia, its people, and relevant issues
Connects Macedonian-Americans and Macedonian-Canadians to their heritage and each other by celebrating our achievements, discussing our rich culture, and promoting unity amongst all Macedonians
Is supported exclusively by subscriptions and the donations of time, funds, and the efforts of countless numbers of MPO members and published by an all-volunteer editorial staff
Announce it in the Tribune!  Whether it's a special birthday, engagement, wedding, anniversary, graduation, a new job or a memorial for a loved one, the Macedonian Tribune is the place to share your news. Rates are:
Full Page – $500, 3/4 Page – $375, 1/2 Page – $250, 1/4 Page $125 or $10 a column inch. Price includes design work. Tributes/Greetings need to be pre-paid and any artwork/photos must be submitted 10 days prior to the publication date which is the first Thursday of every month except September.
Let us help you share the occasion!  Contact us or call the MPO office at (260) 422-5900.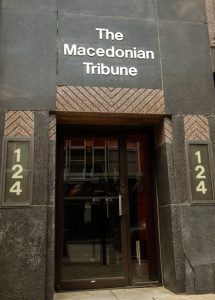 Annual subscriptions receive eleven (11) issues from January to December. Subscription rates below are available in US currency only:
US: $45
Canada/Foreign: $55
First Class: $100
Subscribe/Renew or call the MPO office at (260) 422-5900.