Jimmie Jarvis Biography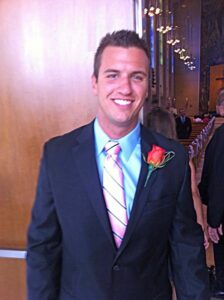 Jimmie was born on January 27, 1989 in Youngstown, Ohio. His life was cut short before he could become a caring doctor to patients. He passed away on June 27, 2014 from injuries sustained from a tragic accident. He was the son of Jim and Janice Jarvis of Canfield, Ohio, sister of Stephanie Putzier of Canfield, and brother of Andrew Jarvis of Columbus, Ohio. His maternal grandparents, the late Peter and Vera Evanoff, attended and loved every MPO Convention and so did Jimmie. Jimmie must have inherited that from them.
Jimmie graduated in 2007 from Canfield High School in Canfield, Ohio. He attended Youngstown State University and graduated summa cum laude in 2011 with a Bachelor of Science degree in Biological Sciences. Next he attended medical school at Ohio University Heritage College of Osteopathic Medicine in Athens, Ohio. He had a passion for changing the lives of others.
Jimmie was a member of Holy Ghost Macedonian Bulgarian Eastern Orthodox Church in Youngstown, Ohio where he was an altar server.  He was a member of MPO Todor Alexandroff Youngstown chapter where enjoyed planning social events.  At the MPO Conventions, he and his cousin Peter Brager would wow the spectoators with their annual secret antics during the last dance of the night, the Rachenitza.  You could always find Jimmie leading the dances with all his moves and bright smile, dancing the night away. He was said to be "the best Macedonian dancer!"
Jimmie's family is honored to celebrate his life at the MPO Macedonian Day of Discovery with the Jimmie Jarvis Memorial Scholarship that is awarded in his loving memory.
Jimmie Jarvis Memorial Scholarship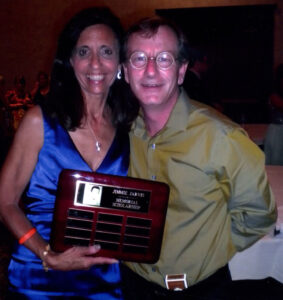 The Jimmie Jarvis Memorial Scholarship was established in 2014 by MPO President Jordan Lebamoff. He presented it to Janice Jarvis, Jimmie's mom, at the 93rd Annual MPO Convention on Labor Day weekend at Sawmill Creek Resort in Huron, Ohio. The scholarships are awarded at the MPO Macedonian Day of Discovery which is held every two years in a different state. This is a day to discover what it means to be a Macedonian through history, culture, ethnic foods, music, and dance. It is so important to keep our traditions and heritage alive for generations to come. At the MPO Macedonian Day of Discovery, many workshops are presented by our fellow Macedonians. Some of the workshops include the zen of making zelnick, the art of making prosphora (holy bread), iconography, and other educational workshops. One interesting session was the history of the song, "Izgrey Zora: The March of the Macedonian Revolutionaries." This song is sung at the close of our annual MPO Conventions. Izgrey Zora
The MPO Day of Discovery is not just for Macedonians.  Anyone can attend and learn.  The Jimmie Jarvis Memorial Scholarship competition is open to high school and college students who attend all workshops during the MPO Macedonian Day of Discovery. Each student who attends writes an essay after the workshops are finished. The best essays are selected by a panel of judges which earn them the scholarship. The family announces and presents the scholarship winners during the evening of the day.
The first MPO Macedonian Day of Discovery "Day to Remember and Rediscovery" was hosted by MPO Todor Alexandroff in April 2017 at St. John the Forerunner Orthodox Church in Youngstown in honor of Jimmie's hometown. Students competed and three scholarship winners were awarded. The $1000 Jimmie Jarvis Memorial Scholarship was awarded to to Jade Lyden of Canfield, Ohio.  Paul Topalov, Sidney, Ohio and Antonia Ladd, Boardman, Ohio were awarded the $500 runner-up scholarships.
The second MPO Macedonian Day of Discovery, "What a Day to Discover" was in 2019 at St. Nicholas Eastern Orthodox Church in Fort Wayne, Indiana. The priest, Father Andrew Jarmus, gave an outstanding presentation on the church's iconography along with other presentations on Macedonian history and zelnick making.  The $1000 Jimmie Jarvis Memorial Scholarship winner was Hannah Koller of Columbia City, Indiana.
The next MPO Macedonian Day of Discovery will be in 2021.  Details to be announced as they become available.
Jimmie's family, along with Todor Alexandroff chapter members, raise scholarship funds through the biannual Bowling Bash held in late winter/early spring at a local bowling alley.  Jimmie was a terrific bowler since age six and won many awards throughout his life.  Everyone is welcome to attend, bowl, bid on auction items, and learn a Macedonian dance or two.
You may click here to donate to Jimmie's scholarship.